VillaTheme's OnSale items in July!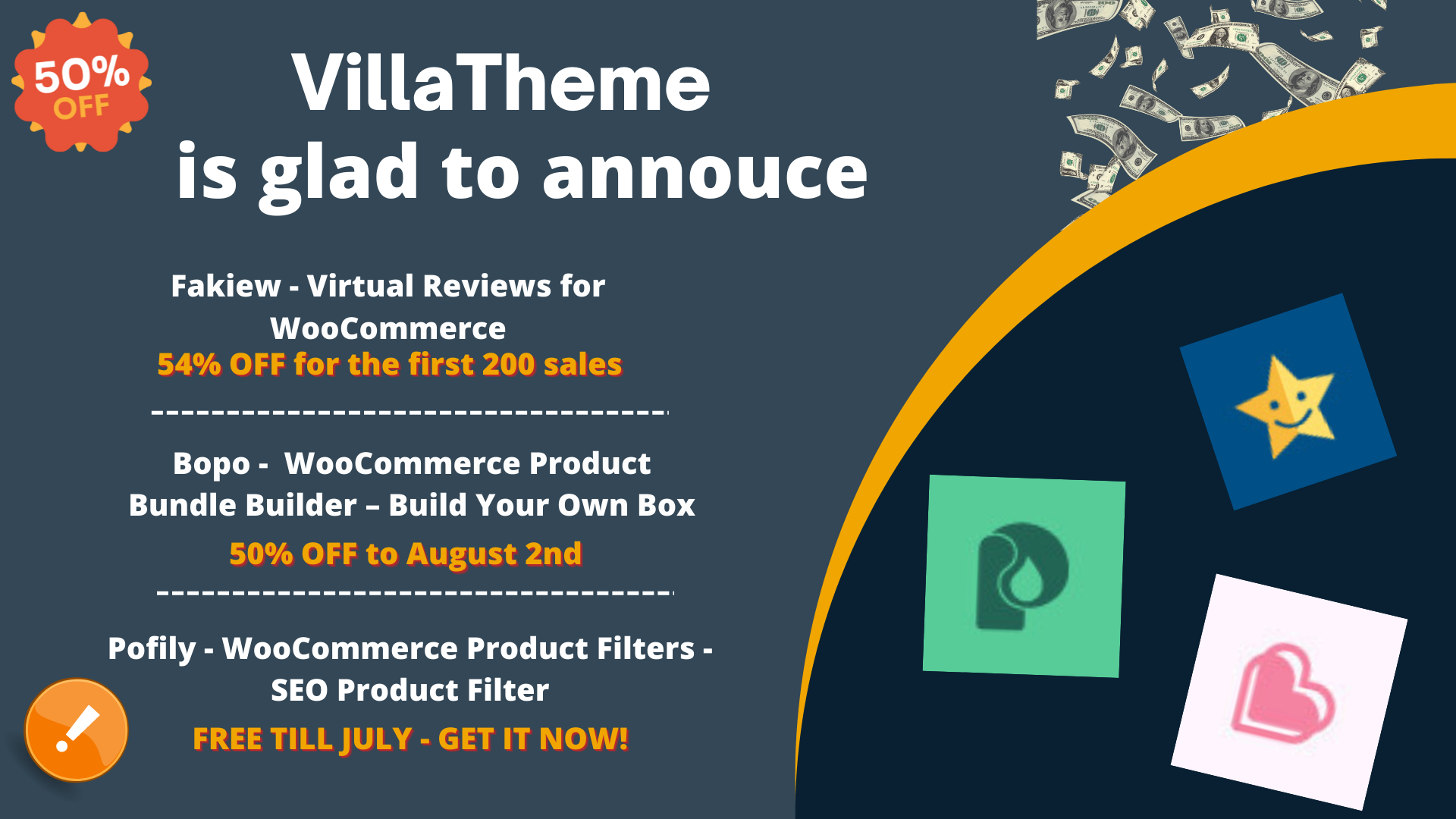 📌 Do you know there're 3 ultimate premium items of VillaTheme that are on sale/free? Don't miss them out in your cart! It's your chance to try out the premium plugins for free!
📌 VillaTheme is pleased to announce our on sale/"Free" premium items to our dear customers!
🔥 First of all, is Pofily – WooCommerce Product Filters being one of the Free file of the month! Which means you're free to use all the premium features of the plugin without paying any fee! This is only available within July, so don't miss it! If you're looking for a WooCommerce product filter plugin, even more coincidentally, you're considering of getting Pofily the premium version, this event just come right on time for you! Get the plugin FOR FREE here: https://1.envato.market/kj9ZJn
🔥 The next item onsale is Faview – Virtual Reviews for WooCommmerce – An ultimate tool for new stores that have not too many reviews. Currently, a discount of 54% is given to FIRST 200 customers – ONLY 10$ instead of 22$! It'll be a big help to build you website credibility in no time by generating virtual reviews for products. Get the plugin here: https://1.envato.market/jW36P0
🔥 Along with Faview is Bopo – WooCommerce Product Bundle Builder – Build Your Own Box – A powerful plugin for boosting sales of different product types, and at the same time offering customers some benefits. Bopo is a smart tool for enhancing cross-selling strategies on your online WooCommerce shop. It is also optimized for search engines, increases site ranking, and ensures a higher conversion rate. Take a look at our extra plugin: https://1.envato.market/4eLB0L
——————–
👉 Follow our network:
💚 FB: https://www.facebook.com/villatheme/​
💚 Twitter: https://twitter.com/villatheme​
💚 Youtube: https://www.youtube.com/c/VillaTheme/…​
💚 Villatheme webpage: https://villatheme.com/​
💚  Community: https://www.facebook.com/groups/villa…​