Why Using Coupon Help Increasing Your Sales?
Asa Candler was the father of Coupon which is widely used and very prevalent in the market.  This man is also the co-owner of Coca-Cola, has helped to transform Coca-Cola from insignificant tonic into a market-dominating drink.  Nowadays, it's hard to find any woo-commerce websites that do not make use of any coupon plugins in selling online.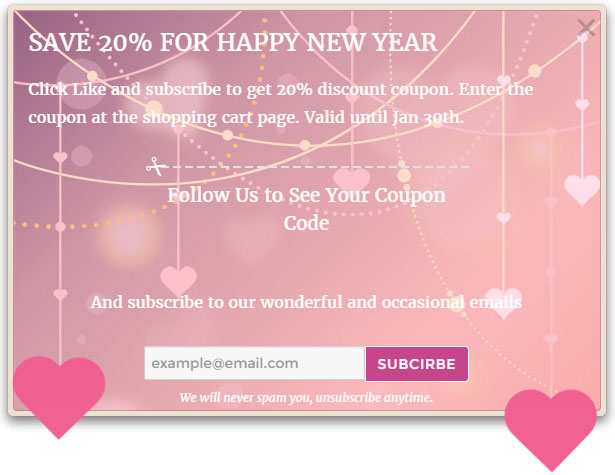 Most woocommerce store owners first get started with their online business by spending money on Google or social ads to get paid leads into their store. Either you have investment funding or bootstrap your business, spending money on generating paid traffic eats into your revenue painfully, especially when we know that ~50-70% of leads may bounce away from your website and never come back. It means you're losing a great amount of money.
That's why coupons are so popular and widely used in e-Commerce websites: to keep online shoppers stay longer and drive them down the conversion funnel to finally finish making the purchase (and come back again). Simply put, coupons work to turn your hard-earned visitors into paying customers so you don't  your upfront investment into "buying traffic" beforehand.
How to use Coupon along customers' path to your store?
The key is to turn first-time customers into email subscribers or social followers with coupons
In fact, if you do nothing to attract your customers in first 10 seconds right on your homepage, most of them are likely to leave your site. So, how do you impress and then make them become your followers, especially the accustomed customers? WooCommerce Coupon Box will be the perfect key that helps automatically show a welcome coupon pop up. The popup asks new visitors to subscribe email or follow a social profile in exchange for a coupon code. For example: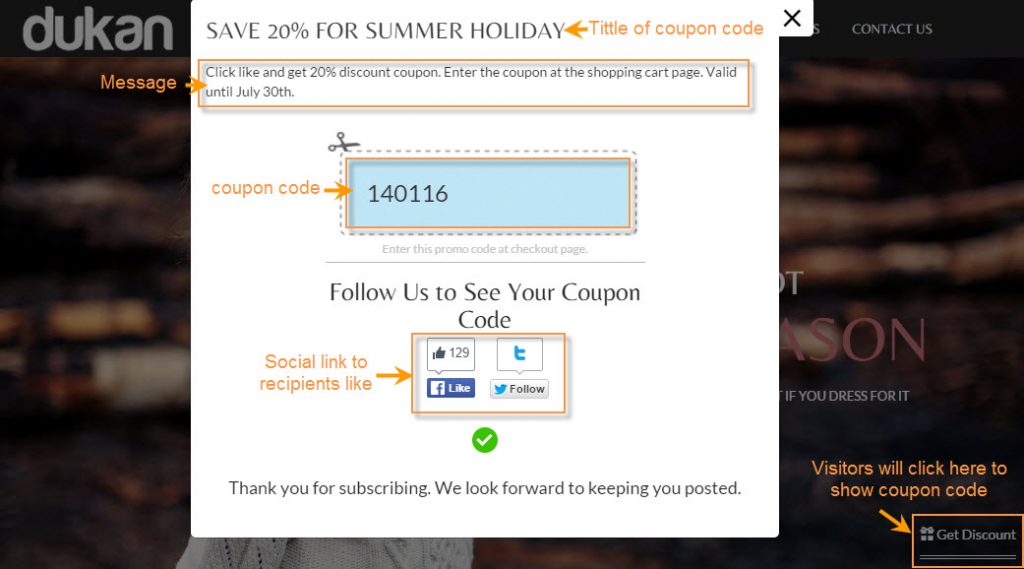 If your message on the popup is attractive enough, customers may be more than willing to become your followers to get a generous discount on their first purchase with you. By doing this, you now have their contact to engage later on social media or by email marketing. Even if they do not complete orders on the first visit to your store, you still have the chance to make them come back later on and actually purchase something. Conversion on the first step completed!
With Coupon Box, we can make the first time customers become our close ones. We send our marketing campaign to the email address they provide us. We can inform the release of launching a new product, updating new products…Very easy, right?  With this tool, we are highly likely to convert a new customer to become a close one!