WooCommerce Notification – Boost Your Sales
For an e-commerce website or store only, how to increase traffic to a product of shop page, how to stimulate the curiosity of customers about special products then up sales? The question for the admin site is how a website automatic to notify about new, hot, best sale or trending products for visitors in order to pay more attention? WooCommerce Notification is a powerful plugin, allowing:
Increase conversion rate by highlighting other customers that have bought products.
Display orders in real time for buyer validation and social proof!
Create a sense of urgency for visitors, and expose new products!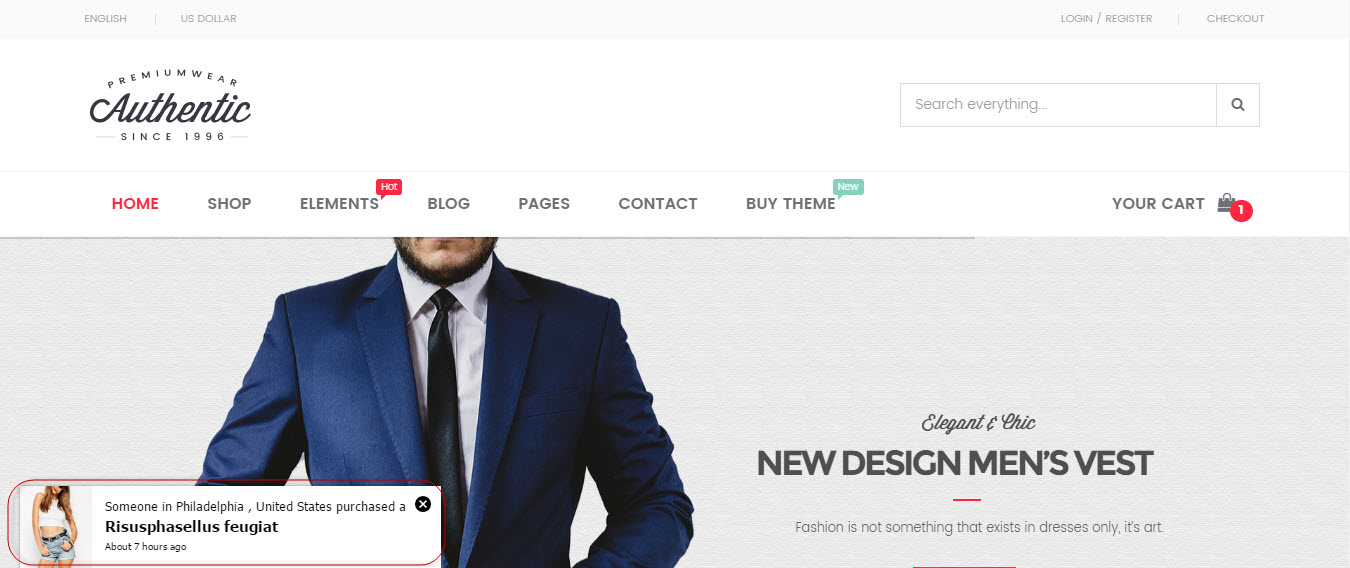 Features of WooCommerce Notification:
Show Notify from specific pages:
You can use "conditional tags" option to show notification on a particular page depending on what conditions that page matches. Simply indicate ID or title of the page that you want to show the notification. For Example, is_page('About') or is_page(50) or is_page( array('About', 'Contact', 50, 75) ).
Works on mobile!
Choose how your notifications are displayed on mobile, or turn them off for mobile devices.
Custom message purchased:
There are available shortcodes to use in order to build the content of the notification. Customer shortcode is available as first name, customer city, customer country, tittle product, with links title product, time after purchase. Just simply select shortcodes without doing anything else then the system will automatically take off this information the same as your configuration.
Custom message checkout.
Get real products from order what is processing or completed
Allows the system to select products from billing to show information related to real purchased products such as the name of customer, name of purchased product, address of customer.. from bill to show in front-end of form notification.
Set time threshold to get the recent product from order
With option "Order Time" allows configuring time to products get from order. Mean that purchased products will be randomly displayed in notification form, just show the products are purchased repeatedly since it has been purchased until the end of time "Order Time".
Up sales with special products
For special products such as new products, or best-selling products, or high-quality products, etc, you can choose the name of these products to display related information in the notification.
Auto-detect real address with ipFind AP
By integrating IP find into WooCommerce Notification plugin, you can simply fetch an endpoint with the IP and receive an instant JSON response with the location data you need.
ipFind auth key
After having entered your key into the field "ipFind auth key", the system will auto-detect your IP address for notification.
Make virtual address of customer and name
Sometimes, it is not necessarily a real customer buying any product then the system creates a notification. This feature allows an administrator to set virtual customer names purchased the specific product with a different address, in order to attract attention to a new product.
Set Virtual Time to auto get random
Similar to the virtual name or virtual address, you can also set the virtual time to determine how long ago someone purchased a specific virtual product.
Unlimited color of highlight, text, background
WooCommer Notification plugin provides unlimited colors and skins to help you configure the color of highlight, text, background.
Available 4 styles position, 2 image positions to show notification and more on demand.
Sound effect when show notification: you can choose available audio so that the notification will be appeared along with audio in front-end.
Set a time to display a notification, delay time to wait from showing, loop time.
Save Logs: Save logs help system stores information when visitors click on the notification. Then admin site could be a statistic of number clicks and analysis fluctuation sales. Report system allows to statistic number clicks by date or by-product.
See users interact with your notifications in real time: with featured save logs, admin site will learn more about attitudes and behavior of customer for product showed on the notification.
FAST. Notify is lightweight and built to scale, so it won't slow down your site (which can hurt your Google rankings).
Easy to use
Overall, let's add WooCommerce Notification to cart then experience it!