Latest updates on best-selling items!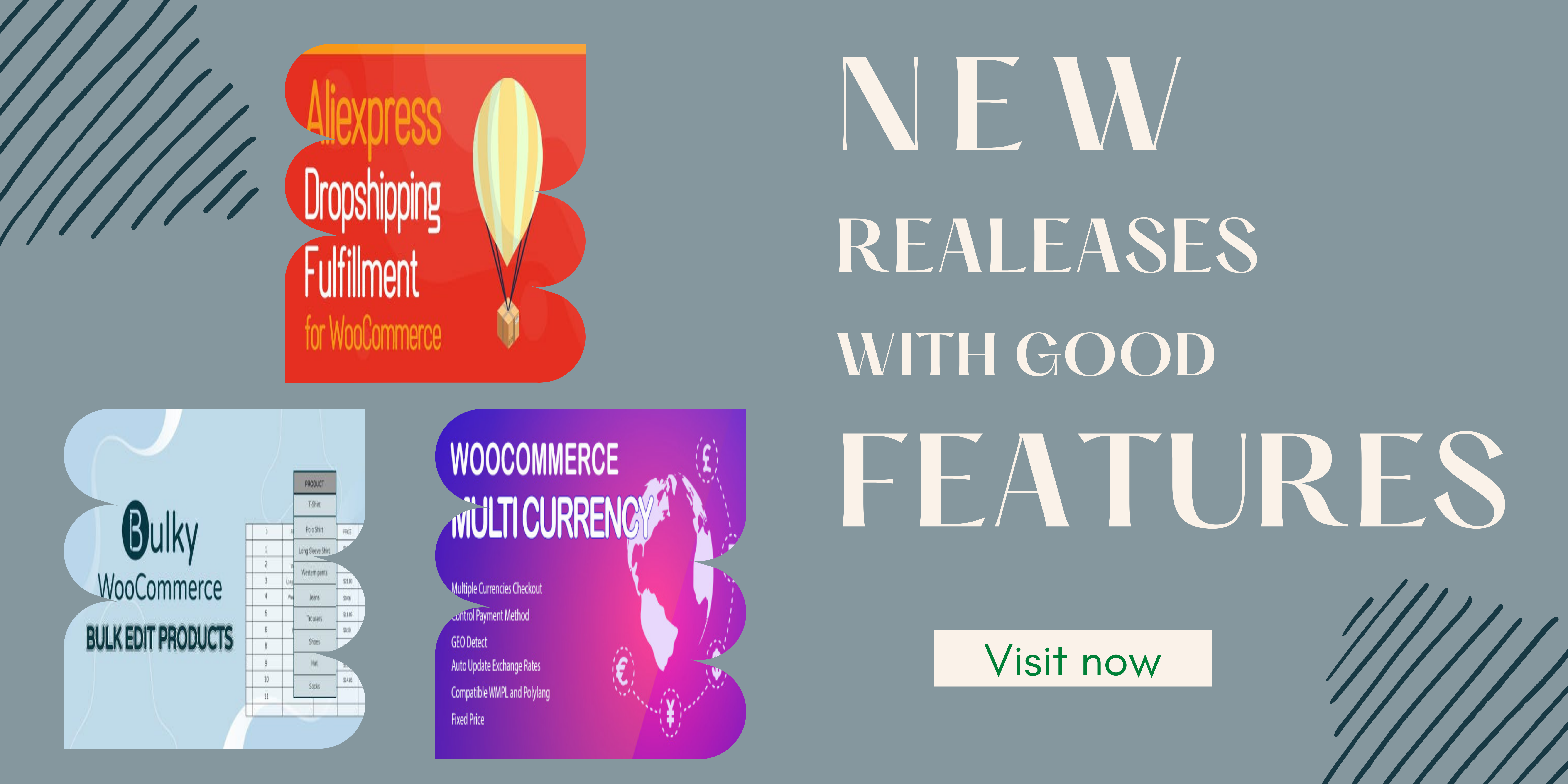 Let's get back to how to improve your website and make it way more professional. If you're looking for some tools to import products from AliExpress; create multiple currencies for customers all over the world; or help you edit your items, orders, and coupons in bulk, which reduces your workload and saves your time…
These features are all available in our plugins, with the latest versions, there are lots of new functions and improvements to make both your and your customers' experience smooth!
Take a look at our best-selling items here 👇
CURCY – WooCommerce Multi Currency – Currency Switcher version 2.1.26
– Fixed: Compatibility issue with Learnpress(since 4.1.5)
– Improved: Currency bar UX
– Improved: WP rocket compatibility – mandatory cookies filter
– Added: Option to expand currency selector on clicking instead of hovering
– Added: Option to choose which currency should show to web crawler tools
– Added: Ability to choose dropdown icon type for dropdown currency selector shortcodes/widgets
WooCommerce Boost Sales – Upsells & Cross Sells Popups & Discount version 1.4.8
– Updated: Make [wbs_frequently_product] shortcode work regardless of the value of the "Enable Mobile" option
– Fixed: Frequently bought together not working correctly for variable products whose attributes are set to Any
ALD – Aliexpress Dropshipping and Fulfillment for WooCommerce version 1.0.12
– Fixed: Unable to import products from aliexpress.ru
– Fixed: Auto-select variation replacements when overriding/reimporting products
– Fixed: Unauthorized error when syncing orders via chrome extension
– Updated: Able to change ship-to country for imported products even "Show shipping option" is off
– Added: Option to show/hide video tab for individual product
– Added: Option automatically fulfill AliExpress order whenever a new order is placed on your site
Bulky – WooCommerce Bulk Edit Products, Orders, Coupons version 1.1.6
– Fixed: Product thumbnail with .jpeg type
Bopo – WooCommerce Product Bundle Builder – Build Your Own Box version 1.0.2
– Fixed: Auto-update key does not work
WordPress Lucky Wheel – Lucky Wheel Spin and Win version 1.1.2
– Fixed: Fixed some function sanitize text fields
– Added: Added filter hook for changing text font of wheel. Hook name: "wpml_font_text_wheel"
👉 See more amazing items in our portfolio.
👋 Don't be interrupted updating if your plugin support duration was ended, just follow this guide to update the plugins.