In this article, you'll learn how to update plugins whether they're free or premium, or whether the Item Support duration of the premium item has expired or not.
When you purchase a license of VillaTheme's plugin on the Envato market you will be provided by Envato with a purchase code that has the format like this:  12345678-12a3-4c56-aa78-c691234567891 and a plugin zip file to download and install the plugin. Then you need to go to our website villatheme.com to authenticate on our system by login with Envato – using your purchased account on Envato. Authenticating on Villatheme's system helps you not only get support on our premium forum by our developers who directly create plugins but also activate automatically update the plugin on your registered domain within 6 months since you purchased.
I. PREMIUM PLUGINS – AUTOMATICALLY UPDATE WITHIN 6 MONTHS FROM PURCHASE.
To automatically receive updates of the plugin, you must ensure the plugin license is active on a specific domain. And you can only receive auto-updates on that active domain only. Go to Dashboard > Plugins > Installed Plugins, look for the plugin you want to update.
If you have not completed authenticating your official domain, the plugin will require you to do authenticate the domain.
Step 1. Click on "Setting page".

Step 2. Then it will redirect to the Update tab in our plugin setting.

After successfully authenticating, you'll be able to receive the updates of that plugin. Sometimes when the auto-update does not work properly, it could be the cache issue or something else, mostly, it can be resolved by Using the built-in WordPress Updates.
II. RENEW AND EXTEND ITEM SUPPORT TO UPDATE PLUGINS IF THE SUPPORT PERIOD EXPIRED OR ABOUT EXPIRED 
If your support period was expired or be about to expire, you can renew/extend your license to keep updating plugins. You can see this guide for further information on how to renew or extend item support.
* Important note: After you renew your item support, you have to re-authenticate to update the renewal status on our system, just follow this guide to re-authenticate. It will take time to proceed with this request to the server and you can post tickets on the premium support forums until the renewal status is updated successfully on our system. Go to this link to check the status.
III. PREMIUM PLUGINS – UPDATE AFTER 6 MONTHS FROM PURCHASE USING ENVATO MARKET PLUGIN
To update VillaTheme plugins when your support time ends up, you can use the Envato Market plugin to keep updating automatically or update manually.
A. AUTO-UPDATE USING ENVATO MARKET PLUGIN
To update the plugins using the Envato Market plugin, please download the Envato Market plugin

here

.
Then you need to deactivate the plugin that you need to update. Go to Dashboard/ Plugins/ Add New to install and activate the plugin.
Go to Dashboard/ Envato Market to generate a Token key and fill it into the Token field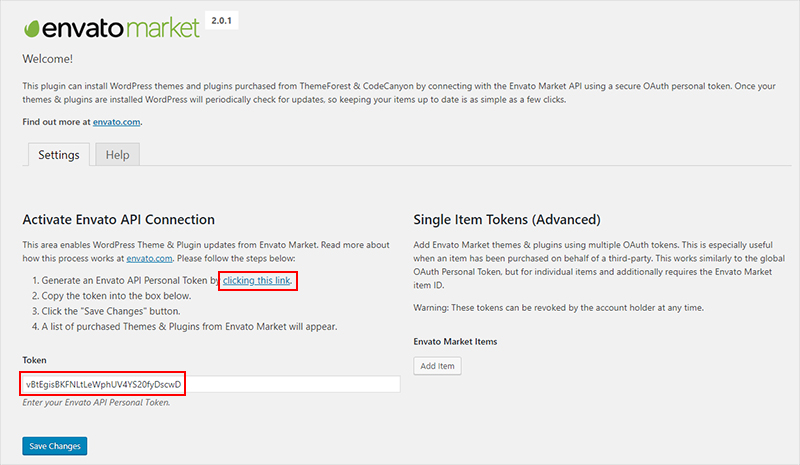 New tabs Themes, Plugins will appear next to the Settings tabs. You're able to install, update your Envato's plugins, themes in these tabs (included VillaTheme plugins).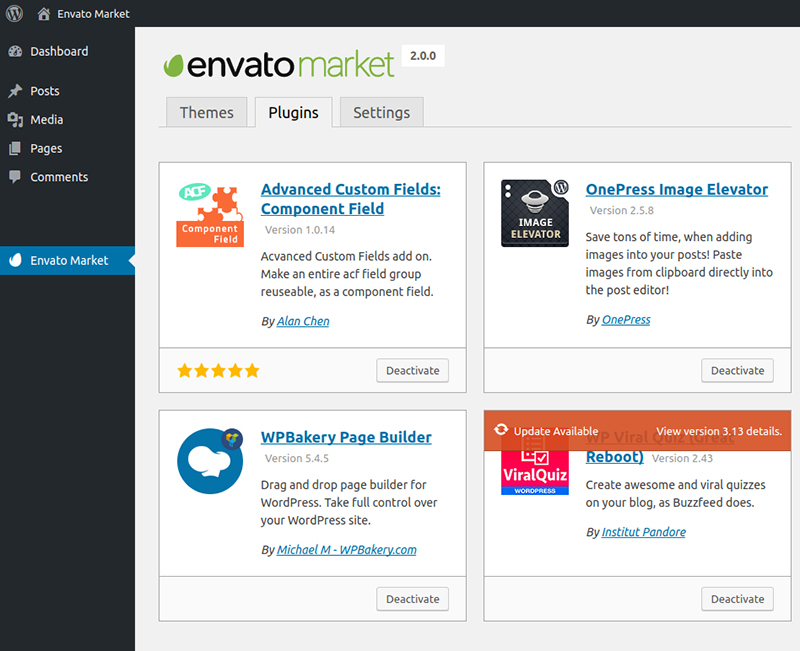 ***NOTE:  If you can't update or update failed with these above methods, please contact the author of these download plugins about your problems. The problems related to updating plugins through Envato Market is over our control. 
B. UPDATE PLUGINS MANUALLY
To manually update an Envato plugin (the official way confirmed by

Envato

), simply re-download the file. You can also see this instruction of ours. Visit https://codecanyon.net/downloads to re-download its installable zip file. Click on the Download button next to the plugin you want to update, select to download "Installable WordPress file only".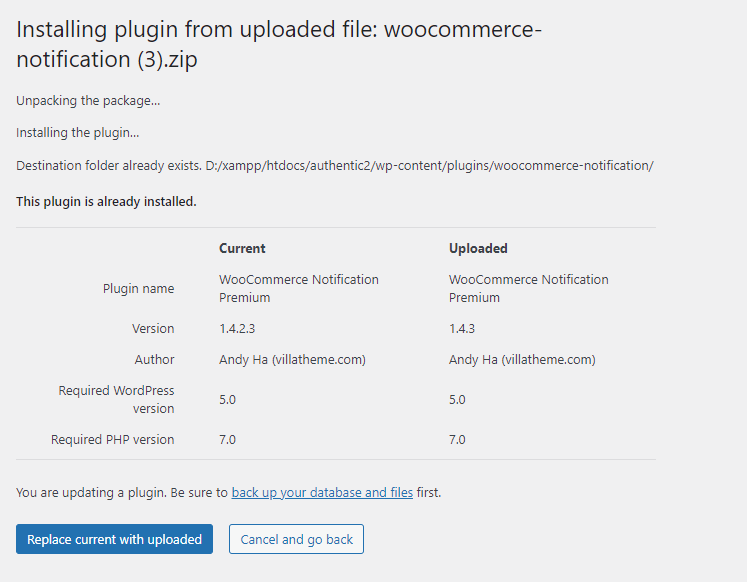 IV. UPDATE FREE PLUGINS.
You can always update free plugins (not only VillaTheme plugins) in the WordPress Plugins list. Simply click the "update now" button if you want to update each particular plugin one by one.

If you want to update all in your list, select them by checking the "Plugin" box in the top left of the list, then choose "Update" in the Bulk action >> Apply