There are some keys/codes that you would confuse after purchasing the ALD – Aliexpress Dropshipping and Fulfillment for WooCommerce, they include: Purchase code, Auto-update key, ALD secret key which you have to distinguish and use properly. Here is a brief overview of each of these keys and how they differ from each other:
1. Purchase Code: A purchase code is a unique code that is generated by Envato when you purchase a plugin. This code is used to verify that you have legally purchased the plugin and are authorized to use it on your official domain. The valid purchase code has a format like this: 12345678-12a3-4c56-aa78-c691234567891. You can visit this link to find your purchase code.
2. Auto-update Key: An auto-update key is a code that is used to enable automatic updates for a plugin. After purchasing the plugin, you need to authorize your purchase on villatheme.com and get the Auto-update key by following this guide. The auto-update key will have a format like this: 12345678ab91c2de3fgh4i56789112jk. This key will be valid for 6 months or 12 months since the purchase depending on the type of license.
* Note: The plugin owner can search the Auto-update keys in the download section, and also check in your plugin setting > Update tab.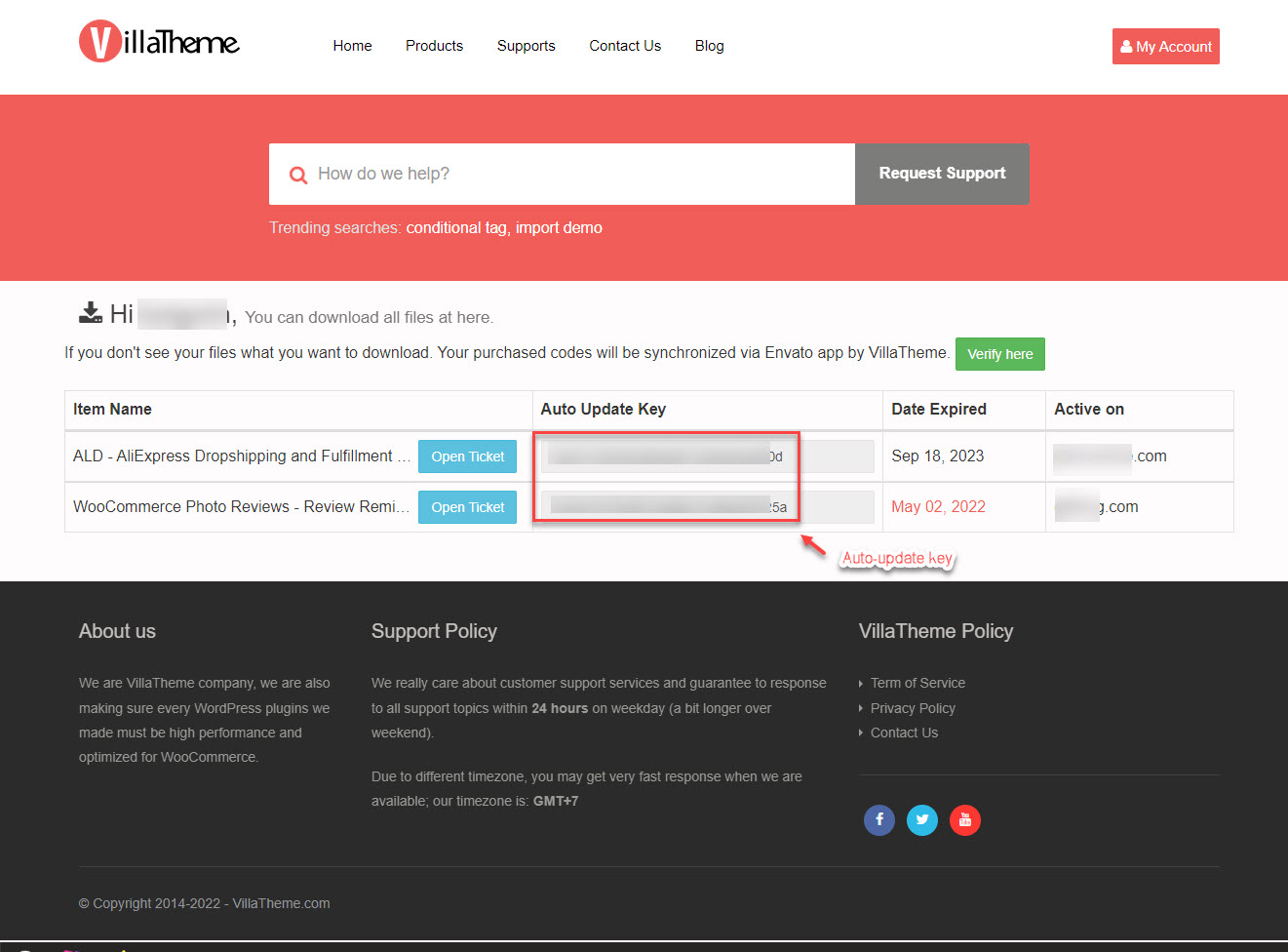 3. ALD Secret Key: This key is generated by the plugin and located in the General tab of the plugin settings. The Secret key is used to connect WooCommerce and Aliexpress via the plugin extension, you can regard this video guide to connect the extension using the Secret key. The Secret key will have a format like this: 7b60cf39a35f85fc47e7c1f34746545b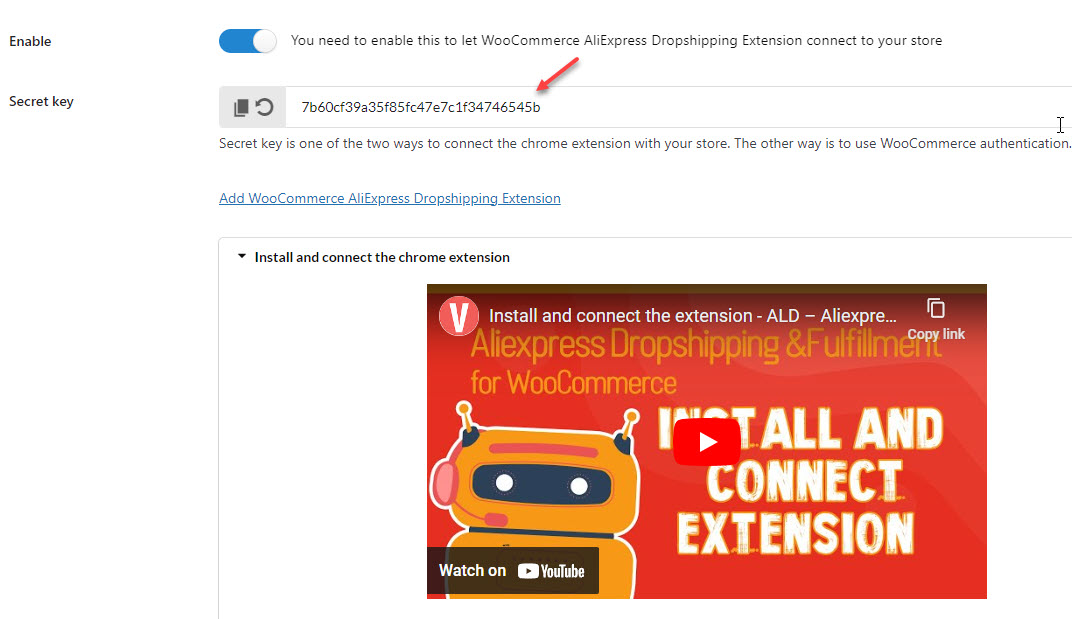 4. Access token: AliExpress Access Token is a type of authentication token that allows third-party developers to access AliExpress API (Application Programming Interface) and retrieve data from the AliExpress platform on behalf of a user or a seller.
The AliExpress Access Token is generated by the AliExpress authorization server and is unique to the application and the user or seller account it is authorized for. It has an expiration time, and the developer can request a new token when it expires, it's about 1 month to get a new access token. It's important to note that using the AliExpress API and Access Token requires compliance with AliExpress API terms and conditions, including data usage and security requirements. Developers should also follow best practices for API security and protect the Access Token from unauthorized access or disclosure.
To get AliExpress API, go to the plugin settings > Update tab, get Access Token and Save.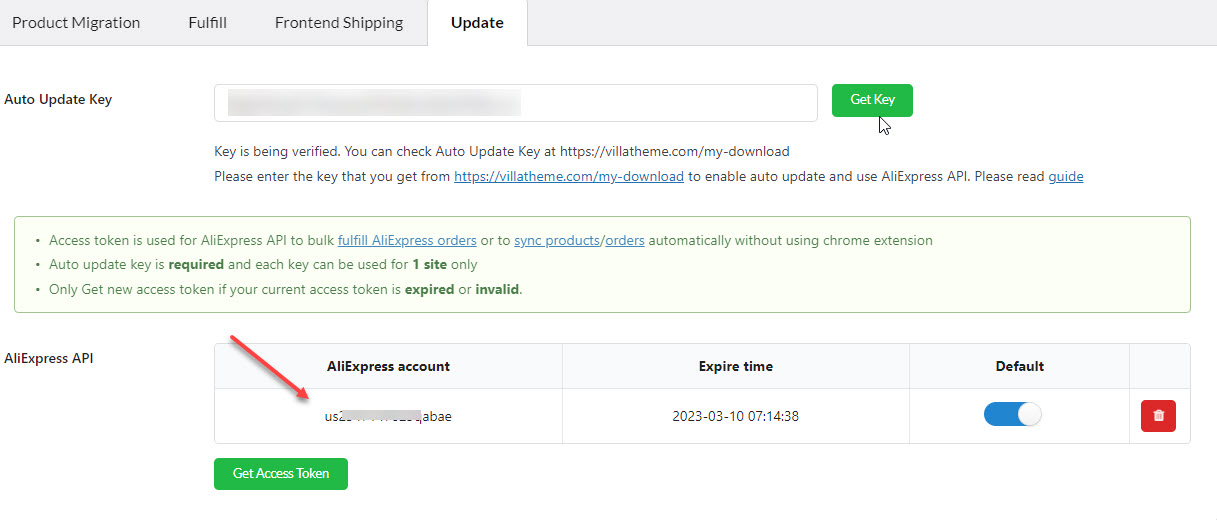 It's important to understand the differences between these keys and to use them correctly in order to ensure that you are in compliance with the plugin's licensing terms.