September Sales – Great deal to expect 📌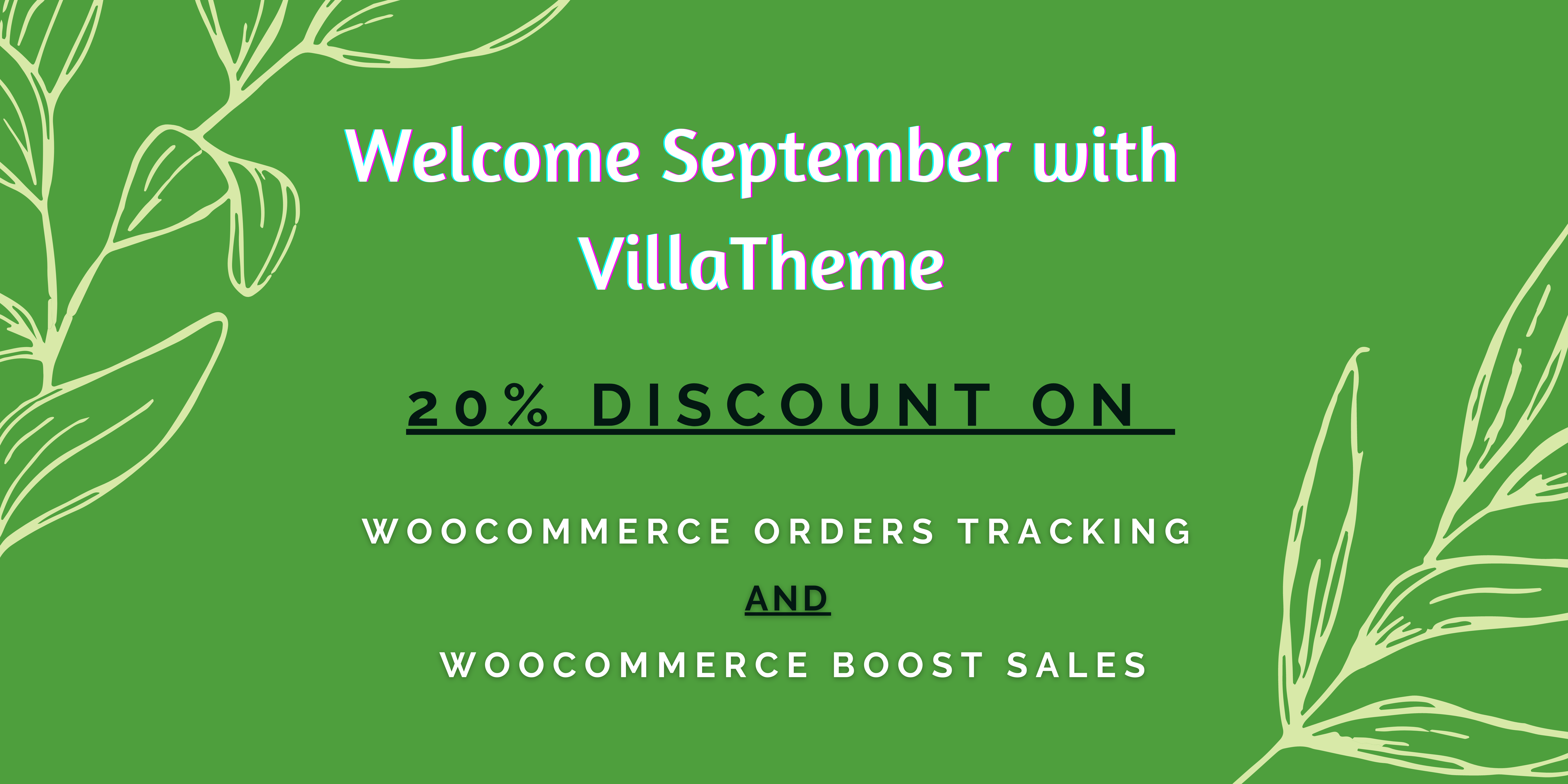 Start your brand-new month with our sale items – You won't be disappointed! We're giving a 20% discount on WooCommerce Orders Tracking and WooCommerce Boost Sales – our 2 beautifully functional and practical plugins for tracking orders and boosting revenue.
👉 WooCommerce Orders Tracking allows you to manage your WooCommerce orders tracking and integrate with some tracking service API to sync your tracking. the plugin can send the orders tracking emails, SMS, and add the tracking information to PayPal transactions with orders tracking information and tracking URLs.
👉 Plugin main features:
📌 Add tracking code to orders
📌 Send SMS about order tracking info
📌 Support Tracking services and Google reCAPTCHA
📌 Add tracking info to PayPal Transactions
📌 Export orders and Import tracking code using CSV file
📌 Tracking Page to check shipping info on your site
📌 Translate timeline on tracking page using Google Cloud Translation API
👉 WooCommerce Boost Sales stimulates the purchase of customers by up-selling and cross-selling. Increase revenue as well as profitability for your website, and stores. WooCommerce Boost Sales allows you to add WooCommerce upsell, cross-sell products in an independent system of WooCommerce.
👉 Plugin's current outstanding features:
⚡ Upsell:
– Display upsell popup when customers add product to cart.
– Maximum number of products on up-sell.
– Popup style.
– Sync upsell products from WooCommerce to plugin and reverse.
– Add bulk products to upsell.
⚡ Cross sell
– Customize product bundles.
– Recalculate the price of the bundles.
– Customize the position of cross sell.
– Sync cross sell products from WooCommerce to plugin and reverse.
⚡ Discount bar
– Get discount when orders hit the goal.
– Discount bar design.
⚡ Shortcode
– Frequently Bought Together shortcode: Display Frequently Bought Together products of a product every you want.
👉 See more amazing items in our portfolio.
👋 Don't be interrupted updating if your plugin support duration was ended, just follow this guide to update the plugins.