This guide shows you simple ways to download and install VillaTheme plugins, both free and premium versions.
PREMIUM PLUGIN
Step 1. Download
Go to https://codecanyon.net/downloads to download the plugin premium file.
If the file is downloaded for the first time, it will be presented like below image, and you will click on the "All files & documentation" section.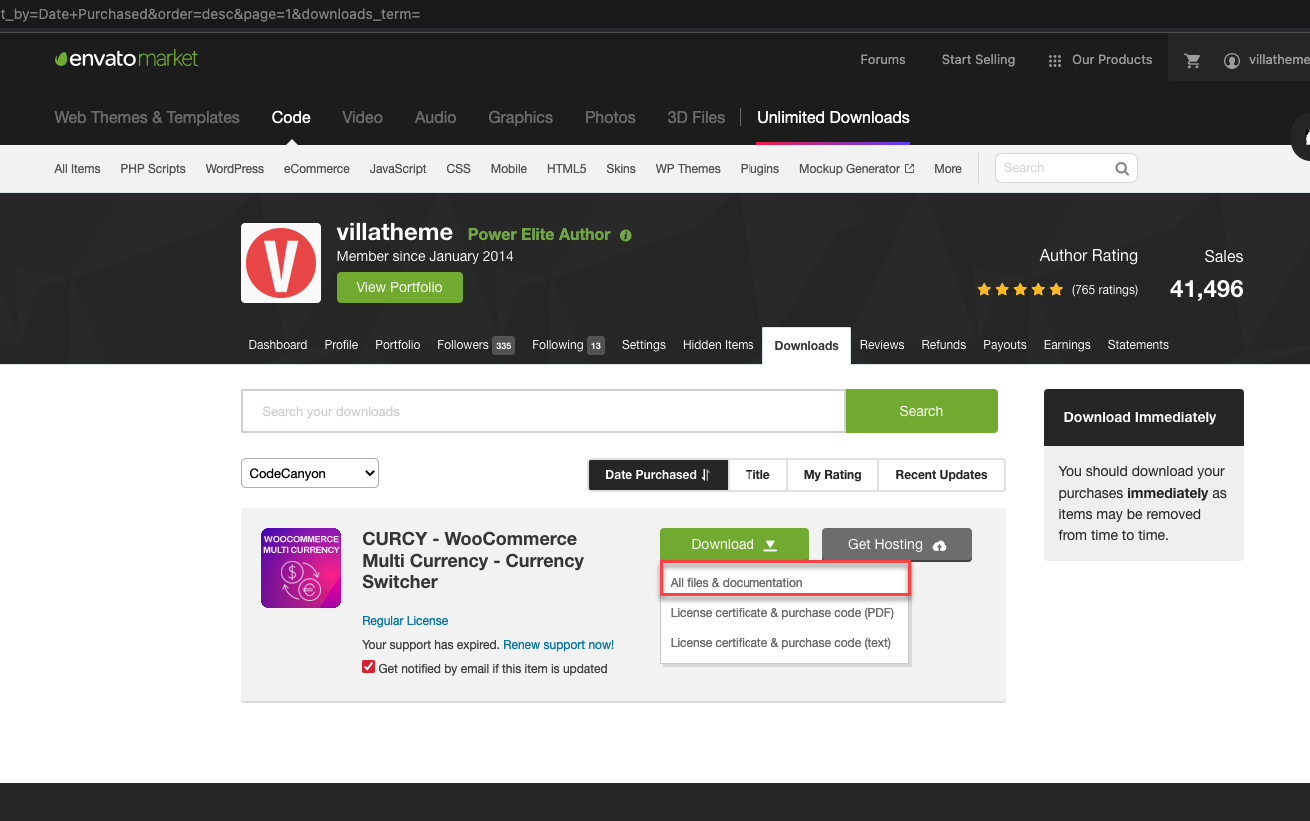 Then, the downloaded file will be a folder like this below, and you must unzip this file.

Click to the unzipped folder, and this is the plugin file for installing.

If you already downloaded the plugin file before, it will be presented like this below, and you will click on the "Installable WordPress file only" option.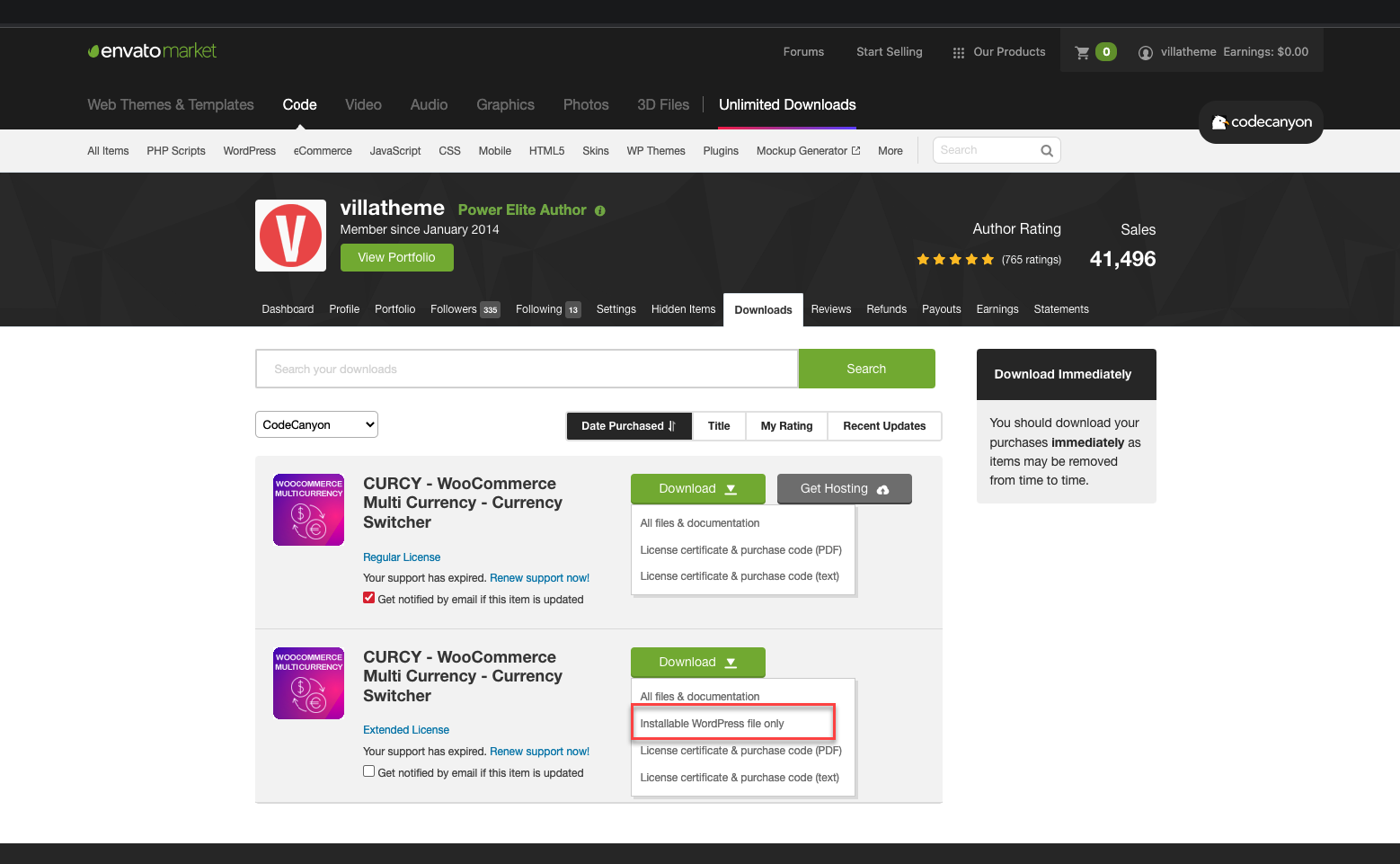 Then, the downloaded file will look like such a file, it's the plugin's file and you will upload this file to your WordPress site.

Step 2. Install & Activate
Go to your Dashboard/ Plugins/ Add New to install the plugin using the Installable WordPress file. Click Upload Plugin, select the installable file, install and finally activate it.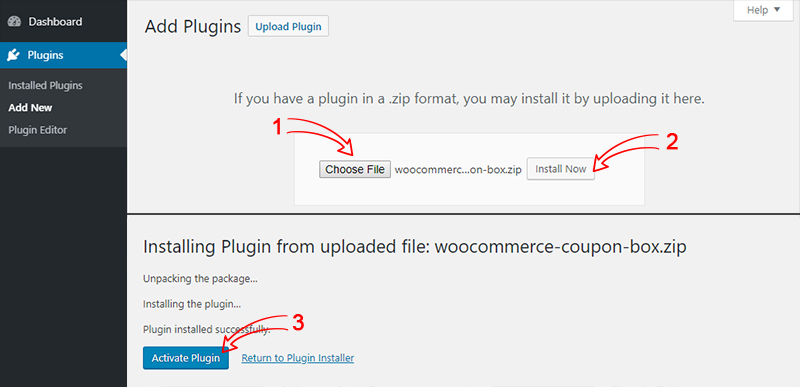 *If you have the free version of the plugin installed, you are free to delete it if you want. The free and premium versions are 2 separated plugins and work independently. If both free and premium plugins are activated, the premium version always takes over. But rest assured it does not affect the plugin operation in general, or your site performance at all. 
FREE PLUGIN
Add a plugin to your WordPress site from the Dashboard
1. In your WordPress dashboard, choose Plugins > Add new.
2. Search for a plugin with the search bar in the top right corner. A number of results will appear.
3. After finding the plugin in the results, click Install Now. You can also click the plugin name to view more details about it.

4. To use the plugin, you'll need to activate it. When the installation is finished (this usually takes a couple seconds), click Activate.

Manually add a plugin
1. Download the desired plugin as a .zip file from either the WordPress directory or from a third-party source. If you're downloading from a third-party website, make sure that the plugin developer is legitimate.
2. From your WordPress dashboard, choose Plugins > Add New.
3. Click Upload Plugin at the top of the page.
4. Click Choose File, locate the plugin .zip file, then click Install Now.

5. After the installation is complete, click Activate Plugin.