It is your right to use the customer support service on the support forum. We highly recommend you to create tickets on the support forum for technical issues. On the support forum, you are cared by our skillful developers who directly made up plugins and the right ones who can answer and solve the plugin's problems, especially, support forums are completely safe. You can learn how to send out ticket privately here.
There are 2 types of forum: The premium forums for users who purchased the plugins and the Pre-sale forum for users who are searching for plugin information before purchasing. Therefore, there will be 2 cases to create tickets on these forums of villatheme's support system.
A. How to create tickets on the premium support forum  – For premium users.
1.  Conditions
+ You purchased the plugin and already activate the plugin's license on our system. You can see this guide. 
+ Your item support is valid within 6 months since you purchased the plugin, you can see this article about the plugin license.
2. How to create tickets on the premium support forum.
After activating the plugin's license on our system succefully, your plugin's license will bring into play, you can check this information by clicking this link. 
Then go to each plugin's premium forum to create tickets, go this link

B. How to create tickets on the presale forum  – For all users.
If you are interested in our plugins and need to know further information, the free forum is a helpful place to raise any questions about plugins. In this case, you can create tickets in the Pre-sale section here.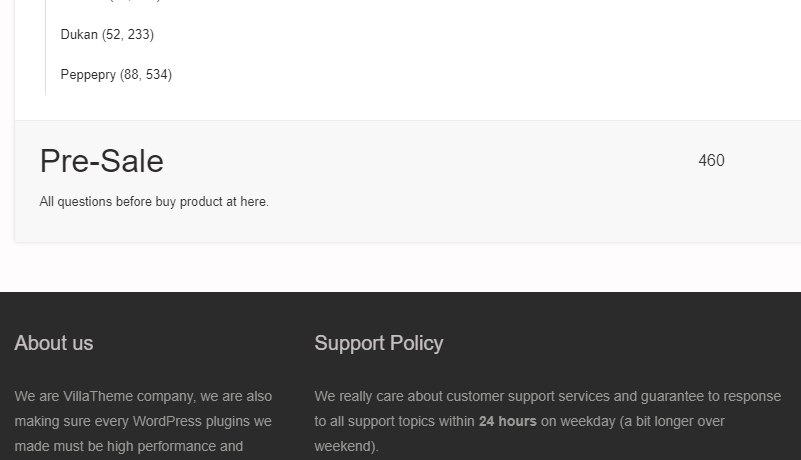 Support forums are safe and useful channels for driving customer problems and ideas to developers, so it will be helpful and benefitable if you know about them and make questions to developers.