Virtual Reviews for WooCommerce – What is it?
If you have a new WooCommerce store that is built ideally but lacks website traffic and there are not too many customer reviews, it makes your store look inactive. Then you may need a review generator plugin – the one that'll help you generate virtual reviews for WooCommerce stores, and Faview – Virtual Reviews for WooCommerce is born to help you solve that concern.
Virtual Reviews for WooCommerce is a review generator plugin that allows you to generate reviews for your products on the WooCommerce website automatically. Which I believe will reduce your workload significantly, building your website a good reputation and credibility, while you focus on building your brand.
Does it just generate virtual reviews for WooCommerce only?
No, that's not all that Faview can do.
If auto-generating virtual reviews for WooCommerce is not enough for you, Faview can help you auto-leave replies to customers' reviews or even virtual reviews! Of course, you have full control over the content of replies and virtual reviews.
Moreover, "Canned reviews" are something I promise to be extra helpful when customers leave a review. It'll be much easier to find a review with the content they want, their experience would be enhanced by small things like this.
Bulk add virtual reviews to WooCommerce products
It helps you bulk-add reviews to your WooCommerce product(s) with only one click.
Author names: Set up a list of review authors that will be randomly added to reviews.
Comments: Set up a list of review comments that will be randomly added to reviews.
Ratings: Choose a particular rating if you add 1 mutual review to many products. Choose the probability for each rating when adding more than 1 review to each product.
Review created date: Freely choose the created date range for reviews added.
Schedule time to automatically add virtual reviews
Create reviews with content appropriate to different products/product groups.
Canned reviews
Faview will display a list of canned reviews in the review form of your site. This feature helps your customers leave reviews faster and easier.
List of canned reviews: Add the content you want to be the canned reviews. When customer reviews, simply select the review content within this list.
2 front-end styles: There are 2 styles to show canned reviews – each will be suitable for the different devices.
Customization: Customize the canned replies all you want
Add reply automatically and manually
Faview lets you add replies both manually and automatically
Replies are added right after the real and/or virtual reviews are left, simply enable its option
Manually add replies in the Comment settings page of WordPress
Fully control the reply content corresponding to each particular rating
Other features
Compatible with multilingual plugins: WPML and Polylang
Add/Bulk add/Bulk delete virtual reviews in WooCommerce Products list – backend
Filter product based on review count on WooCommerce admin Products list
Show product average rating in the WooCommerce admin Products list
Filter virtual reviews on WooCommerce Reviews list – backend
Actively supported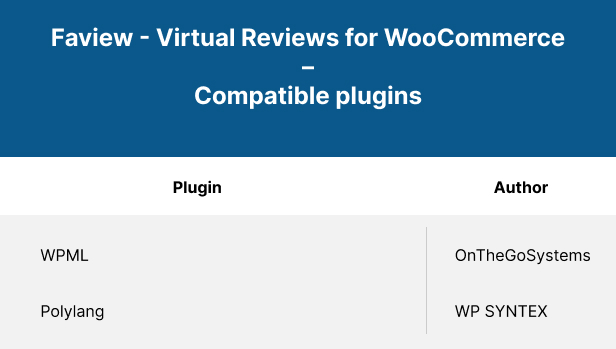 Take a look at our short Preview video to learn about what makes us the best solution for new websites that don't have many customer reviews.