Order Tracking for WooCommerce is a WooCommerce extension that allows you to bulk add tracking code to WooCommerce orders. Then the plugin will send tracking email with tracking URLs to customers. The plugin also helps you to add tracking code and carriers name to your Paypal transactions. This option will save you tons of time and avoid mistake when adding tracking code to Paypal.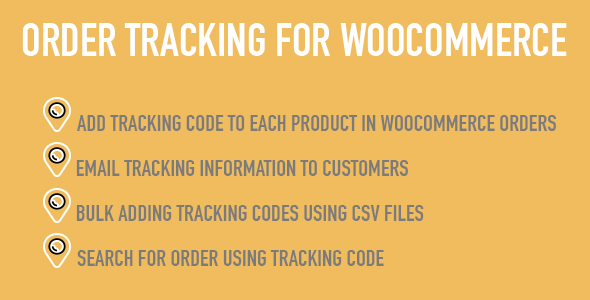 Adding Tracking Code to WooCommerce Orders
The plugin Order Tracking for WooCommerce allows you to add tracking code to each product. The tracking code can be added manually in the WooCommerce/Orders page, or you can bulk-adding using CSV file. Customers can check their tracking code on the My Account page or using the tracking URL in emails.
Export orders and Import tracking code using CSV file
The plugin provides an option for you to bulk import tracking code using CSVs file. You can select orders and export as a CSV file. Then edit the file to add tracking codes. Then import the CSV file in the plugin backend. Tracking codes will be added to your WooCommerce order and Paypal transactions.
Order filters: filters help you to select the orders you want to export by created date, paid date, completed date, status, billing address, shipping address, payment method, and the shipping method.
Export fields: select the order fields you want to export. Included Order ID, Order Item ID, Product ID, Variation ID, Product Name, Product Price, Quantity and Product SKU…
Import tracking code using CSV files: after editing the exported order file and add tracking codes. You can import it in the plugin backend. Tracking codes will be automatically added to your WooCommerce orders.
Integrated Shipping Carriers
The plugin integrates more than 80 common shipping carriers all over the world. And you still can add your custom shipping carrier if it is necessary.
More than 80 carriers integrated: The plugin allows you to select the carriers you want to use.
Automatical generate tracking URL: Then when adding a tracking code, you just need to select the carrier and fill in the tracking code. Order Tracking for WooCommerce will auto-generate a  tracking URL.
Add custom shipping carriers: The plugin allows you to add custom shipping carriers by entering the carrier name and tracking URL.
Tracking Emails
The plugin will send emails to customers whenever a tracking code is added to their order.
Send tracking emails: you can select to send tracking email to the customer when a tracking code is added to their orders.
Edit the tracking email: You are able to change the tracking email subject, heading and content. The plugin provides shortcodes display customer name, order ID and shipping information in emails.
Push Tracking Codes to Paypal
This option requires a Paypal app (free to register) to work. Whenever a tracking code is added to an order which is paid using Paypal, the plugin will add the shipping information to the Paypal transaction on Paypal.com. This option will save you a lot of time and avoid mistakes.
Automatic add shipping information: Shipping information includes carrier names and tracking code will be added to your Paypal transaction automatically.
Paypal Sandbox supported: The plugin provides a sandbox option that allows you to test the feature with a Paypal Sandbox account before using it with your live account.
Integrated Tracking Services
Order Tracking for WooCommerce works with Tracking Service like TrackingMore. The plugin will get the shipping information from TrackingMore and transfer it to your customers.
TrackingMore integrated: This option requires a valid TrackingMore API to work. Order Tracking for WooCommerce will automatically get tracking information from Tracking More.
Tracking Page
The tracking page options allow your customer to check the shipping information on your site (instead of going to the shipping carrier site). This option works with TrackingMore tracking service only.
Create a tracking page: when the plugin is installed. A tracking page will automatically be added to your page (check it at Dashboard/ Pages/ Track Order).
Design the tracking page: The page has two templates and multiple design options for you to change its front-end.